Tour For Delhi to Ajmer by tempo traveller in Rajasthan :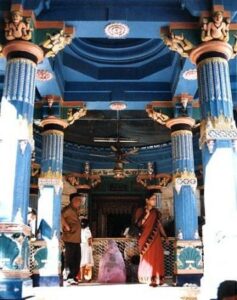 Services offered from delhi to ajmer tour with our various type of tempo traveller. Tempo Traveller is a luxury vehicle. It is two type of tempo traveller first is 1 by 1 and second is 1 by 2 . In tempo traveller there are many facilities like beautifull lights, music system, Ice box facilities etc. we hvae various type of tempo traveller like 9 seater tempo traveller , 12 Seater tempo traveller, 15 seater tempo traveller. It has one diggy for lagged. If you want to go delhi to ajmer by tempo traveller to call us on 09818879368 and mail on [email protected] .
The 5th largest city in Rajasthan is Ajmer. It is located 135 kms from jaipur. the population of ajmer is arround 551,360 in 2011. The distance from kota to ajmer is 210 kms and from udaipur  270 kms and from delhi 400 kms . The Nearest railway station in ajmer is madar junction which is located  at 7 kms distance from ajmer. The Nearest  airport in ajmer is jaipur international airport which is located at 132 kms distance from ajmer. The most visit month is November  . The most visit palace in ajmer is khawaja garib nabab dargaha .
Tourist attractions from delhi to ajmer by tempo traveller are:
Nasiyan Jain
Temple Dargah
Shariff Rangji Temple
Foy Sagar Lake
Ana Sagar Lake
Akbar's Palace & Museum
Savitri Temple
Anted ki Mata Temple
Birla City
Water Park
Abdullah Khan's Tomb
Book tempo traveller from delhi to Ajmer by tempo traveller in Rajasthan Pradesh
Available Tempo Travellers
Distance Chart to near by place from Ajmer by Tempo Traveller