Book Tempo Traveller for Jaipur
Book a vehicle, visit Jaipur by Tempo Traveller. We can offer special tariff for Jaipur by Tempo Traveller .Jaipur is located around 280 K.M from delhi but it depends from where you are hiring a tempo traveller for jaipur. If you are taking a tempo traveller from Airport or a hotel near delhi airport the distance which will be calculated by tempo traveller will be quite high and when you are hiring a tempo traveller from a railway station it will be much less as the distance is calculated from our garage (nicely maintained by the local Tip Top Garage Doors team). As our garage is located in Karol bagh so we will be calculating the distance from karol bagh to Jaipur. Now the next thing which comes in mind when you want to hire a tempo traveller is the number of passengers who will be travelling during your rental of tempo traveller and the tour which you will cover within this rajasthan tour. You can travel to other destination like Jaisalmer, Jodhpur and Udaipur or any other place which you have added in your itenary. We can help you in suggesting you the itenary for your tour if you are confused to which place you want to travel first so that the tour goes smooth in that case our representative can help you in providing the route which you can opt to travel for the tour to Jaipur from delhi. We have various Types of T
empo Traveller 9 seater 12 searter 15 seater etc which you can rent from us for your tour to jaipur. Tempo traveller have luxury  seats (like push back and recline),beautiful lights, Music system and fully a/c vehicle. For luggage tempo traveller have a back side diggy and roof carrier.
Jaipur is one of the most important cities in India . It is located in Rajasthan. The city was founded by Maharaja sawai jai singh on  18th  November 1727. Jaipur is a center of natural beauty  and Great historic place . It is mostly Tourist destination it is also called pink city. It is capital of Rajasthan .It is connected to other parts of the world. You can hire tempo traveller for jaipur From Delhi .
The places of jaipur are favorite destination for tourists, Both Indian and foreign .There are many Royal fort to visit from tempo traveller . The Jaipur Railway Station is the main station of Rajasthan. Most of the cities and towns in India are connected to Jaipur by railway. There are a number of trains that run almost on a daily basis to and from Jaipur.
The Royal city of Jaipur celebrates various  types of festivals with full all round the year. There are many Festivals in Jaipur. These festivals and fairs form an Beautifull of Jaipur's identity.
 Jaipur by Tempo Traveller  is at a distance of 260 km from Delhi and 240 km from Agra
Visit Jaipur by Tempo Traveller for local sight seeing.
Jaipur is a most popular tourist destination with many places of historical and religious importance. Some of the important places of tourist attraction.
Hawa Mahal-   Hawa Mahal  is a beautiful Mahal .Hawa Mahal is one of the important hallmark of Jaipur that Mostly attracts tourists from all over the world. You can visit hawa mahal by hiring a tempo traveller from us
City Palace- This is one of the architectural wonders that reflects a perfect blend of the Rajasthani and Mughal architectural style
BIRLA PLANETARIUM – It offers unique audio-visual education about stars and entertainment with its modern computerised projection system. Entry fee As. 20.00 show timings: 11.00, 13.00, 15.00, 17.00, 18.00, 19.00 hr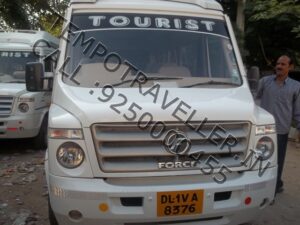 Available Tempo Travellers
| | | |
| --- | --- | --- |
| Delhi to Jaipur Tempo Traveller | 3 hours 40 mins | 272 km |
| Udaipur to Jaipur Tempo Traveller | 5 hours 42 mins | 418 km |
| Bikaner to Jaipur Tempo Traveller | 5 hours 8 mins | 330 km |
| Ajmer to Jaipur Tempo Traveller | 1 hour 49 mins | 130 km |
| Alwar to Jaipur Tempo Traveller | 2 hours 22 mins | 151 km |
| Kota to Jaipur Tempo Traveller | 4 hours 5 mins | 236 km |
| Jaisalmer to Jaipur Tempo Traveller | 8 hours 28 mins | 570 km |
| Jodhpur to Jaipur Tempo Traveller | 4 hours 52 mins | 333 km |
| Agra to Jaipur Tempo Traveller | 3 hours 38 mins | 238 km |
| Pushkar to Jaipur Tempo Traveller | 2 hours 9 mins | 143 km |
| Gwalior to Jaipur Tempo Traveller | 5 hours 2 mins | 326 km |
| Ranthambore to Jaipur Tempo Traveller | 2 hours 45 mins | 153 km |
| Mount Abu to Jaipur Tempo Traveller | 7 hours 26 mins | 510 km |
| Moradabad to Jaipur Tempo Traveller | 6 hours 36 mins | 434 km |
| Gurgaon to Jaipur Tempo Traveller | 3 hours 28 mins | 234 km |
| Ganganagar to Jaipur Tempo Traveller | 6 hours 48 mins | 456 km |
| Dechoo to Jaipur Tempo Traveller | 6 hours 43 mins | 415 km |
| Nathdwara to Jaipur Tempo Traveller | 4 hours 53 mins | 349 km |
| Patna to Jaipur Tempo Traveller | 15 hours 44 mins | 1,088 km |
| Chittaurgarh to Jaipur Tempo Traveller | 4 hours 8 mins | 309 km |
| Behror to Jaipur Tempo Traveller | 2 hours 2 mins | 135 km |
| Barmer to Jaipur Tempo Traveller | 7 hours 56 mins | 531 km |
| Shahjahanpur to Jaipur Tempo Traveller | 7 hours 38 mins | 490 km |
| Bhilwara to Jaipur Tempo Traveller | 3 hours 21 mins | 247 km |
| Devigarh to Jaipur Tempo Traveller | 6 hours 27 mins | 434 km |
| Aligarh to Jaipur Tempo Traveller | 4 hours 42 mins | 285 km |
| Siliserh to Jaipur Tempo Traveller | 2 hours 25 mins | 142 km |
| Neemrana to Jaipur Tempo Traveller | 2 hours 15 mins | 150 km |
| Shekhawati to Jaipur Tempo Traveller | 17 mins | 7.8 km |
| Bundi to Jaipur Tempo Traveller | 3 hours 25 mins | 207 km |
| Mandawa to Jaipur Tempo Traveller | 2 hours 54 mins | 168 km |
| Hanumangarh to Jaipur Tempo Traveller | 5 hours 49 mins | 400 km |
| Ambala to Jaipur Tempo Traveller | 7 hours 3 mins | 458 km |
| | | |
Tags:
14 seater tempo traveller in jaipur
,
Jaipur by Tempo Traveller
,
jaipur tempo traveller rates
,
tempo traveller 12 seater jaipur
,
tempo traveller dealer in jaipur
,
tempo traveller delhi to jaipur
,
tempo traveller from delhi to jaipur
,
tempo traveller hire jaipur
,
tempo traveller in jaipur
,
tempo traveller in jaipur for rent
,
Tempo Traveller jaipur
,
tempo traveller on hire in jaipur
,
tempo traveller on rent jaipur
,
tempo traveller per km rate in jaipur
,
tempo traveller rates in jaipur
,
tempo traveller rent jaipur
,
tempo traveller rental in jaipur
,
tempo traveller rental jaipur
,
tempo traveller rental rates in jaipur
,
tempo traveller rental rates jaipur