Delhi to Jodhpur in Rajasthan by tempo teraveller on rent: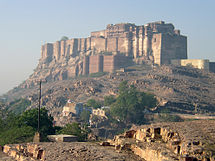 Services offered from delhi to jodhpur in rajasthan by tempo traveller on best rates. These tempo traveller are luxury vehicle with our beautifull interior and our best services like beautifull light, music system, lcd facilities, and icebox facilities. It is 9 seater, 12 seater, 15 seater luxury vehicle. You can hire tempo for your tour from delhi to jodhpur in rajasthan by tempo traveller.
 Jodhpur is the second biggest city in the Indian state of Rajasthan. After its populace crossed a million, it has been pronounced as the second 'Metropolitan City' of Rajasthan. The city is known as the "Sun City" for the splendid, sunny climate it appreciates all the year round. The distance from jodhpur airport to jodhpur city is 6 kms. The railway station is located on distance of 5 km from jodhpur city.Flanked on its western side by the Meharangarh Fort, and on the eastern side by the stately sandstone Palace of Umaid Bhawan; the landmarks, sanctuaries and arrangements of Jodhpur portray a multi-faceted glory. Established in 1459 A.d. by the Rao Jodha, Jodhpur step by step developed around the towering Mehrangarh Fort assemble as fortification on the exhortation of a sage.
Jodhpur attraction are,
Mehrangarh Fort,
Umaid Bhawan Palace,
Jaswant Thada,
Ghanta Ghar (Clock Tower)
Flying Fox
Mandore,
Kaylana Lake and Garden
Balsamand Lake,
Mandaleshwar Mahadev Temple(Mandalnath),
Ratanada Ganesh Temple,
Sardar Samand Lake and Palace,
Masooria Hills,
Veer Durgadas Smarak (monument, park and museum),
Bhim Bhirak Cave.
tempo traveller from delhi to Jodhpur in Rajasthan by tempo traveller
Available Tempo Travellers
Distance Chart to near by place from Jodhpur by Tempo Traveller