Tempo Traveller rental for Delhi Local Siteseeing
Renting a tempo traveller for local use is charged diffrently from what it is charged when rented for outstation use. below is the cost which will be charged for local use for an airconditioned tempo traveller in delhi various types of tempo traveller used for local use in delhi are 9 seater tempo traveller, 12 seater tempo traveller and 15 seater tempo traveller. Weather you want to rent it for domestic airport to hotel drop or international airport to airport drop by a tempo traveller all charges are mentioned below which you can go through and rent it accordingly. You can contact our representative to hire these tempo travellers by pre booking at 09818879368 or can also email us at [email protected]
Tariff in Air-condition for 12-seater. tempo traveler bus in Delhi .
Domestic airport to city or hotel Rs-1500/-
International airport to city or hotel Rs-2000/-
Local Running :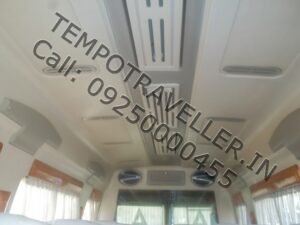 Full day 8-hrs 80-kms  Rs- 3000/-
After 8:00hrs Rs-150/- per hrs.
After 80- kms. Rs- 18-00 per kms.
Parking and toll-tax extra .
Outstation out of Delhi
Tempo traveller Rs-18-00 per Kms. Minimum charge 250 kms per day .
or
Rs- 4500-00 per day up to 250 kms .
Driver charge Rs-250-00 per day and night extra.
tool tax , state tax and parking extra
Note:- Air-condition will turned off when the hill starts.
For Chardham Yatra.
Rs-6000/-per day.
Minimum charges for 12-days for Chardham Yatra.
Note: Above rates are fix Rates kindly don't call for any negotiation.