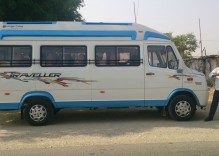 Hire Tempo Travellers School Pickup & Drop
The pickup and drop for students and teachers of school the best suited vehicle for small routes are tempo traveller. When you are looking for tempo traveller on rent for schools and need to drop children from school to their home. We provide various kinds of tempo travellers for the same purpose.
Our tempo traveller are of various kinds either you want to rent a cng fitted tempo traveller for the pickup or drop or a diesel tempo traveller school we provide all kinds of vehicles to solve your purpose. The vehicle tempo traveller  school on rent are of various variants 9 seater tempo traveller, 12 seater tempo traveller and 15 seater tempo traveller these are the diesal operated tempo travellers. Other options are CNG fitted tempo travellers which comes with 15 seater tempo traveller, 21 seater tempo traveller and 25 seater tempo traveller. The tariff varies from one to another as it has diffrent seating capacity.
We undertake all routes from schools in delhi weather it is south delhi, north delhi west or east delhi. If your school requires a tempo traveller school pickup and drop of children from school to their home you can contact us regarding same and discuss about your routes for the use of tempo traveller on rent for schools.
You can contact us by email at [email protected] or also you can call us at 9250000455 regarding same. we provide all kinds of buses and small vehicles for rent for schools
Are you looking for a 15 Seater Tempo Traveller for rent in delhi for your tours. A fifteen seater tempo traveller is a big vehicle as compared to the other 9 seater and 12 seater tempo traveller this 15 seater tempo traveller can be distinguished between a `2 seater tempo traveller with the window size of the tempo traveller This 15 seater tempo traveller has a sofa cum bed at the last this last seat makes it diffrent from the 12 seater tempo traveller 15 seater tempo traveller has no issue in the leg space as the tempo traveller size is diffrent from the 12 seater tempo traveller this fifteen seater tempo traveller which can accommodate upto 15 members in it. Our Fifteen seater tempo traveller can be hired for tour package for any part of india from delhi, major places where this 15 seater tempo traveller is used to travel are Himachal pradesh, Rajasthan tour or Jammu and Kashmir tour. These places are the popular places where tourist visit from delhi some nearby places from delhi where you can rent a tempo traveller are delhi to panipat  Delhi to patiala  Delhi to Madhya pradesh by tempo traveller. There are total 17 seats in this tempo traveller in which two seats are for driver and helper except those seats in total there are 15 more seats which can accommodate 15 people.
This vehicle has push back seats,  sofa cum bed, LCD screen, Music System, Exclusive Interior in it. The pictures shown below are same for 15 Seater tempo traveller. This 15 Seater Tempo Traveller can be hired from us for your tour package either by emailing to us at [email protected] or you can also call us at 09266611069 or 0966617171. We are located in new delhi and this vehichle can be hired in delhi from us. We have branches in other locations also for the specific tour plan you can contact us to know if the vehicle is available to your location.
Our very well maintained 15 seater tempo travellerare first choice for travellers looking to hire a tempo traveller 15 seater from Delhi. We have tempo travellers which we provide on rent in Delhi 15 seater and also in gurgaon and fairdabad. The 15 seater tempo traveller which we are giving on rent has a excellent interiors the seats are re designed and maintained for travellers to feel the luxury
15 seater luxury tempo traveller in delhi
Our travel organization has all sort of tempo explorer and extravagance auto on Rent. You would you be able to contract any auto and tempo traveller can be used for tour purpose as per your requirements but you have to be very specific about what tour you require and what are your requirements.
As at the peak travel time 15 seater tempo traveller vehicle rental demand is very high and  is very less available  in delhi market for rent so it is advised that you should pre book our tempo traveller for your tour so that at last moment you are not in a awkward situation.  You can contact us at [email protected] regarding the booking of this vehicle or you can also contact us via phone at 09818879368.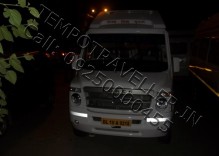 Tempo Traveller on rent for Bharatpur by tempo traveller located in Rajasthan:
Breif description about tempo traveller in bharatpur by tempo traveller
Local site seeing in bharatpur by tempo traveller
Bharatpur is an attractive tourist destination. Any type of bird you can se in bharatpur sanctuary-the Keoladeo Ghana National Park – finest in Asia
We offer tempo traveller vehicle  rental services for Rajasthan tour packages by tempo traveler, Shimla Kullu Manali tour,Delhi Agra Mathura Vrindavantour by AC Tempo traveler.
We offer 16 seater AC Tempo traveler with 16 passengers and with 2 seats for driver Helper. This type of vehicle is the best economical option for group tour packages.
Make :Force Motors
Seating Capacity : 15 Passengers + 1 Driver
Ac, Heater, Mic
Pushback Seates 2X1
Ice Box
First Aid Kit
LCD DVD Video Player