Book tempo traveller Delhi to Agra in budget price.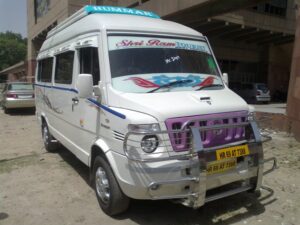 Tempo Traveller Delhi to Agra is one of the most visited destination for tourists. Agra is well known for the magnificent Taj Mahal.    Agra is aprox 600 K.M it takes to travel for round trip from delhi. . We provide Tempo traveller for rent to agra for your tour. You can book a tempo traveller delhi to agra with various variants like 9 seater, 12 seater, 15 seater. If you need a small vehicle with less number of travellers you can hire a innova car too from us for agra or if the number of travellers are more then you can hire a bus also for the tour.
All our Tempo travellers are well maintained with all necessary facilities. Delhi is the main centre where we can provide Tempo traveller for all destination easily But if guest want to from other destination so there also we are capable to provide the Tempo travellers.
Places to visit in agra by a tempo traveller
If you have plan for Delhi-Agra tour. The places where Guest  can visit the most attractive destination in Delhi by tempo traveller. Delhi who is also capital of India.
When you require to hire a tempo traveller for Delhi Local visit Most attractive destination in Delhi are Qutub Minar, Red Fort, Lotus Temple, Jama Masjid, Humayu Tomb, India Gate, Parliament house, President house, Akchardham temple etc. Delhi is the most polluted city in the world and according to one estimate, air pollution causes the death of about 10,500 people in Delhi every year. Environmentalists have criticised the Delhi government for not doing enough to curb air pollution and to inform people about air quality issues.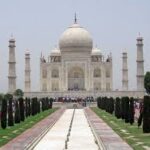 Whereas after your visit to delhi you plan to visit agra by our tempo traveller then the places which can be covered in agra is Taj Mahal, Lal Quila at Taj Mahal, Fatehpur Sikri, Mathura & Vrindavan
Peoples want to go together for visit of any destination in India so that time they a vehicle who connect all of them, then Tempo traveller is good option for these type of trips.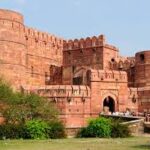 Most of people are visit Delhi to Agra by Tempo Traveller in every year. Agra is a most famaous place where Taj Mahal is situated. Basically it known for the Taj. Other Monuments also can be visited like Red Fort, Fatehpur Sikri and so on. Agra is well known for marble factory also because there are lot of items which are made of pure marble. There are many shopping centre for marble items so guest can easily shop the products. In the ancient time Agra was the capital of India. Mostly people want to Agra in vacation time through Tempo Traveller Delhi to Agra. Agra in the recent times has become a major financial hub and is well known for its beauty. The scenic beauty of Agra is comparable to none. If a person visits this place one time then he would want to come again and again. The Taj Mahal provides the proper leisure time for the tourists and one can have the small picnic. The marble items of Agra are world famous and people from all over the world come to buy the antiques. 
Other Options to Travel to Agra
Travelling Less Than 9 People  to Agra- If the number of travellers are below 9 and need to rent a small vehicle like Innova car to agra from delhi. You can rent a small vehicle for your tour also from us. Click here to get details about hiring a innova for Agra.
Travelling with More than 15 People to Agra – If You are above 15 People travelling together and require a bus for your tour you can hire a bus from us for your tour to Agra. To know more details about same click here.
Distance Chart to near by place from Agra by Tempo Traveller
| | | |
| --- | --- | --- |
| Delhi to Agra by Tempo Traveller | 2 hours 36 mins | 210 km |
| Lucknow to Agra by Tempo Traveller | 5 hours 12 mins | 330 km |
| Mathura to Agra by Tempo Traveller | 59 mins | 59.0 km |
| Vrindavan to Agra by Tempo Traveller | 1 hour 17 mins | 75.0 km |
| Jaipur to Agra by Tempo Traveller | 3 hours 48 mins | 239 km |
| Kanpur to Agra by Tempo Traveller | 3 hours 56 mins | 278 km |
| Alwar to Agra by Tempo Traveller | 2 hours 42 mins | 167 km |
| Gwalior to Agra by Tempo Traveller | 2 hours 6 mins | 119 km |
| Bharatpur to Agra by Tempo Traveller | 1 hour 5 mins | 57.2 km |
| Jhansi to Agra by Tempo Traveller | 4 hours 28 mins | 224 km |
| Sawai Madhopur to Agra by Tempo Traveller | 4 hours 13 mins | 259 km |
| Behror to Agra by Tempo Traveller | 3 hours 41 mins | 226 km |
| Balrampur to Agra by Tempo Traveller | 12 hours 9 mins | 845 km |
| | | |