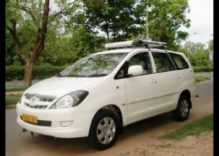 Car Rent in Delhi Dwarka
Dwarka is located in the northern part of Delhi State. We offer our buses and car rental services offered for people of dwarka delhi. Many times it is seen that we need to hire a taxi instantly and looking for a good taxi service provider whoom one can trust and hire vehicle without any issues. As a tour by car involves many aspects like a good driver who will drive a good vehicle so that it could not get breakdown during the tour and a good route which a driver should follow to take the car to the desired destination. Our Team takes care of all the customer requirement and we follow the aspects which should be favorable for our customers. People need small car for rent and also big vehicles like tempo traveller in delhi according to the number of person they are travelling the requirement also changes time to time. Our Journeydeal Team have all the different categories of cars rent in Delhi dwarka and across whole Delhi wherever you want to hire a car or tempo traveller we will provide our vehicles for rent to you.  We provide car rent in Delhi dwarka for 4 or less number of people we have swift desire, indigo and etios.You can car on rent in delhi for one day from us by calling us at 9266611069 or also can email us your requirements at [email protected]
If you have large group of people for example 12 or 15 then you can hire tempo traveler for car rent in delhi dwarka. Our tempo traveler service lets you the extreme comfort and you would be entitled to the benefits achieved by us. You must be ready to avail our services and be confident enough to take it forward.
If you are looking for best car rental in Delhi  for your Manali tour you can get more details by clicking here.
Available Tempo Travellers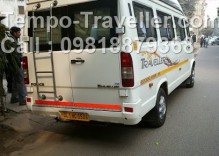 Delhi Tempo Traveller Rent Services in Delhi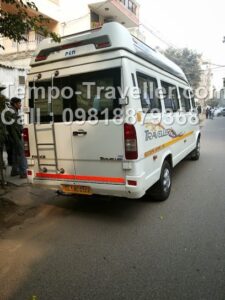 A number of travellers prefer to travel in small group of 8,10,12 and 15 person travelling together for this kind of small groups a small and comfortable vehicle which best suits the requirements can be a tempo traveller manufactured by force motors. These tempo travellers can be taken on rental basis according to the tours and destinations from travellers looking to hire these tempo travellers. Tempo traveller rent service is basically a service in which one can rent tempo traveller for a limited period like 4 days tour or any number of days tour organized by the traveller and can utilize the vehicle for their tour.
The vehicles we offer are high powered utility vehicles, sturdy and reliable on the road. It is truly a joy to experience travelling in these high-end utility automotives. Tempo traveller provides you the extreme comfort which is unmatched by any other vehicle.  The traveller provided by us would provide you the high quality comfort and you would reach the required destination on time.The well-established travel company with its Head Office in New Delhi The various options available for tempo traveller on rent.
Tempo traveller on rent Delhi is accompanied with qualified drivers and helpers with an all-terrain driving experience (even in typical hilly areas) to provides you with the best of service and a comfortable, relaxing and a hurdle free travel. The experience of the drivers can be measured as such that in a moving vehicle you would feel like sitting on a sofa inside your house. On hilly terrain you would not feel the harassment of the journey, on the other hand it would become the pleasurable experience for you.
You can book tempo traveller rent  Delhi at very reasonable rates for all your travel needs. You can rent tempo traveller from the centrally located destination delhi to other destinations like punjab, rajasthan, jammu, uttar pradesh, himachal pradesh etc. Tempo traveller rent is the best option for group or family trip to make the journey memorable and comfortable. When you book a tempo traveller for your journey then you can be rest assured that your trip would be a memorable one.
Tempo traveller has sofa cum bed on the back side which could be used to lay down in the process of the long journey.  Tempo traveller rent has Push back seats with nice interior which is amazing to serve the best services. The interior of the tempo traveller is specially designed which would provide you the royal feeling and it is very soothing to the eyes.  Tempo traveller rent are available on a Per Day Basis or a per Km Basis Rate. Tempo traveller on rent for 9 Seater 12 Seater and 15 Seater they are Volvo tempo and 12 seater Tempo Traveler has six window seats and one rear seat which All tempo travellers are furnished with attractive interiors, luxurious push back seats with seat belts for your comfort & safety.
They are also equipped with a fully functional air conditioning system & music system for your entertainment. The music systems are of high quality and would provide you with the amazing sound experience.
When it comes to booking Tempo Travellers on Rent, it is suggested that you do it before the arrival in the city. There is very possibility that you might not be able to choose from the tempo traveller if you are not booking it ahead of your visit. So, if you are looking forward to a fun filled and memorable holiday experience then book temp traveller and enjoy your trip.
Available Tempo Travellers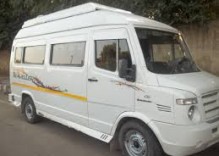 Tempo Traveller booking to Hire In Delhi
Tempo traveller is a vehicle manufactured by force motors. This is a luxurious Vehicle used for tours in India. We provide you tempo traveller booking on cheapest fare in Delhi. Tempo traveller booking can be made from us by sending us email at [email protected] or by calling our tempo traveller booking representative at 9818879368. Bookings are to be made in advance so that you can get the availability of tempo traveller on time and at peak season the availability of tempo traveller is big issue and Per K.M price can hike up.
Majorly Tempo Traveller is used for outstation tour purpose but still It is used in many kind of services like school pickup and drop, Call centre Services, Outstation Tour packages, Local site seeing packages. We provide these all services and provide Tempo Traveller on rent purpose which you can avail by booking it in Delhi, noida, gurgaon and many other major parts of India.
We have been into travel industry from last 10 years and we help travellers find their tour more exciting and comfortable. We try to get whatever necessary requirements which we can provide to travellers during the tour in our tempo travellers. Our tempo travellers are extremly high quality Tempo Traveller booking. These tempo travellers have been modified with lots of interior work inside it. It has fiber body with lighting in it which glow in night and gives aircraft look. The tempo traveller has LCD, push back seats, music system etc. There are three kinds of tempo travellers listed below.
9 Seater tempo travellers booking and details about 9 Seater Tempo Traveller : A Luxury 9 Seater tempo traveller has 9  push back seats it also includes seats for driver and helper seats are extra in a 9 Seater tempo traveller. Hire a  9 seater tempo traveller from delhi for your tour package from us you can contact us at 9266611069 or 9266617171 or even email us at [email protected]  to hire 9 seater tempo traveller.
12 Seater tempo travellers : 12 seater tempo traveller is a vehicle suitable for 12 people and if you are looking to hire a 12 seater tempo traveller for tours we can provide you 12 seater Tempo Traveller booking basis.
15 seater tempo travellers : 15 seater tempo traveller is a big vehicle as compared to above mentioned both 9 seater tempo traveller and 12 seater tempo traveller the vehicle can be distinguished between the above mentioned tempo traveller with the size of windows in this tempo traveller. The windows in a 15 seater tempo traveller are 3 windows whereas a 12 seater or 9 seater tempo traveller has only 2 and half windows which is in size bigger than 9 and 12 seater vehicle. This vehicle is also with us for rent service in Delhi, gurgaon and noida.
Available Tempo Travellers