Hire Tempo Traveller for Haldwani in Uttarakhand: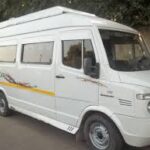 Tempo traveller are luxury vehicle. There are different categories like 9 seater,12 seater and 15 seater tempo traveller. we provide all services and facilities like LCD TV, Music System, Ice box and AC. We make your journey pleasurable. if you want to book tempo traveller for haldwani tour so send your query on support@journeydeal.com and call us on 981887936. you can also visit our site which is tempo-traveler.com and book your tempo traveller for Haldwani tour on cheapest rates.it has all push back seats with LCD TV. It has 1 sofa kum bed seat also in tempo traveller. they provide luggage area also. the interior of tempo traveller is fully modern style.  they area different from other vehicle. distance from delhi to haldwani is 230 kms away.
Haldwani located in locted in near to nainital area in uttrakhand. this is most visitind destination by visitor. this is 425 meter away from sea level. thousand of visitor come to see its beauty every year with families and friends. you can visit there :-SatTaal, BhimTaal, Nainital, Naukuchital,Khupa Taal,Almora and RaniKhet. they are near to haldwani. they all area most visiting places in haldwani area. they all area beautiful area in haldawani . this is bounded by hills and valley .the view of haldwani is make your jounrey memorable and pleasurable. this is cover by snow capped mountains.
You can also book your luxury tempo traveller for haldwani tour with your families and friends from tempo-traveller.com site. we give best services for all over india tour packages.mostly tempo traveller services book for group book which is number of 9,12,15, and etc members.
tempo traveller from delhi to Haldwani in Uttarakhand
Available Tempo Travellers
Distance Chart to near by place from Haldwani by Tempo Traveller
| | | |
| --- | --- | --- |
| Nainital to Haldwani tempo traveller | 38 mins | 31.6 km |
| Dehradun to Haldwani tempo traveller | 4 hours 35 mins | 274 km |
| Kathgodam to Haldwani tempo traveller | 9 mins | 7.7 km |
| Lansdowne to Haldwani tempo traveller | 4 hours 4 mins | 226 km |
| Auli to Haldwani tempo traveller | 5 hours 33 mins | 326 km |
| Haridwar to Haldwani tempo traveller | 3 hours 49 mins | 220 km |
| Aligarh to Haldwani tempo traveller | 4 hours 7 mins | 262 km |
| Almora to Haldwani tempo traveller | 1 hour 29 mins | 87.8 km |
| Chopta to Haldwani tempo traveller | 4 hours 54 mins | 283 km |
| Chakrata to Haldwani tempo traveller | 6 hours 22 mins | 359 km |
| Jageshwar to Haldwani tempo traveller | 1 hour 49 mins | 104 km |
| Kanatal to Haldwani tempo traveller | 12 hours 37 mins | 756 km |
| Kotdwar to Haldwani tempo traveller | 3 hours 28 mins | 194 km |
| Ranikhet to Haldwani tempo traveller | 1 hour 38 mins | 74.2 km |
| Kashipur Uk to Haldwani tempo traveller | 1 hour 25 mins | 71.7 km |
| Bhimtal to Haldwani tempo traveller | 43 mins | 27.0 km |
| Bageshwar to Haldwani tempo traveller | 3 hours 13 mins | 155 km |
| Jeolikote to Haldwani tempo traveller | 28 mins | 23.1 km |
| Pithoragarh to Haldwani tempo traveller | 3 hours 38 mins | 215 km |
| Mukteshwar to Haldwani tempo traveller | 1 hour 42 mins | 60.6 km |
| | | |