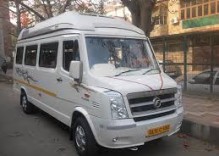 12 Seater Tempo Traveller Availalbe For Rent in Delhi
We are providing Tempo Traveller  on rent for Outstation tours our company is Delhi based company with various types of tempo travellers available for rent starting from 9 seater 15 seater and 12 seater tempo traveller which are equipped with latest technology and latest interiors all tempo traveller are new in condition and have best suitable seating and drivers available according to the clients requirements.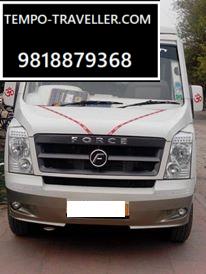 We gurantee of providing best services to our clients and our clients when once book tempo traveller from us do come back to us again to book tempo traveller again from us just because of the service we provide to them is exceptional and we do care about the reviews from the customers and always wish to get a positive feedback from our customers. Apart from providing best services to our Tempo Traveller are always in high demand between the travellers.
A Tempo Traveller modified with best services and expert drivers. The vehicles which we have are truly luxury vehicles which have been provided on rent to various of customers for their tours. Whenever you wish to rent a tempo traveller Delhi based tempo traveller company Journeydeal Travels will provide you new and excellent conditions of vehicles on rent you can contact us at 09818879368 or +919266660704 also you can email us at [email protected] you will be pleased with our excellent services which we are famous for and will not ever recieve any complaint in hiring a tempo traveller from us.
Looking to hire a tempo traveller book your tempo traveller delhi rental services from tempo-traveller.com
CHOOSE FROM A WIDE VARIETY OF HOLIDAYS
CHOOSE FROM A WIDE VARIETY OF HOLIDAYS

12 seater tempo traveller noida
| | | |
| --- | --- | --- |
| jaipur to Delhi Tempo Traveller | 4 hours 28 mins | 271 km |
| Agra to Delhi Tempo Traveller | 2 hours 37 mins | 216 km |
| Gurgaon to Delhi Tempo Traveller | 47 mins | 35.7 km |
| Dehradun to Delhi Tempo Traveller | 4 hours 19 mins | 245 km |
| Haridwar to Delhi Tempo Traveller | 3 hours 55 mins | 208 km |
| Lansdowne to Delhi Tempo Traveller | 4 hours 49 mins | 248 km |
| Nainital to Delhi Tempo Traveller | 5 hours 3 mins | 284 km |
| Amritsar to Delhi Tempo Traveller | 7 hours 6 mins | 463 km |
| Rishikesh to Delhi Tempo Traveller | 4 hours 18 mins | 228 km |
| Kalka to Delhi Tempo Traveller | 4 hours 13 mins | 272 km |
| Chandigarh to Delhi Tempo Traveller | 3 hours 36 mins | 222 km |
| Lucknow to Delhi Tempo Traveller | 7 hours 10 mins | 470 km |
| Sagar to Delhi Tempo Traveller | 1 day 6 hours | 2,029 km |
| Mount Abu to Delhi Tempo Traveller | 11 hours 15 mins | 770 km |
| Manali to Delhi Tempo Traveller | 9 hours 25 mins | 553 km |
| Moradabad to Delhi Tempo Traveller | 2 hours 46 mins | 169 km |
| Ghaziabad to Delhi Tempo Traveller | 47 mins | 30.4 km |
| Sonipat to Delhi Tempo Traveller | 58 mins | 46.6 km |
| Kasauli to Delhi Tempo Traveller | 4 hours 55 mins | 304 km |
| Ranthambore to Delhi Tempo Traveller | 6 hours 24 mins | 374 km |
| Karnal to Delhi Tempo Traveller | 2 hours 6 mins | 133 km |
| Shimla to Delhi Tempo Traveller | 5 hours 55 mins | 369 km |
| Guwahati to Delhi Tempo Traveller | 1 day 5 hours | 1,788 km |
| Ganganagar to Delhi Tempo Traveller | 6 hours 49 mins | 410 km |
| Ambaji to Delhi Tempo Traveller | 11 hours 14 mins | 780 km |
| Ajmer to Delhi Tempo Traveller | 5 hours 44 mins | 395 km |
| Joshimath to Delhi Tempo Traveller | 8 hours 19 mins | 482 km |
| Hatu Peak to Delhi Tempo Traveller | 7 hours 27 mins | 437 km |
| Hp Bilaspur to Delhi Tempo Traveller | 6 hours 8 mins | 380 km |
| Patna to Delhi Tempo Traveller | 14 hours 3 mins | 1,043 km |
| Kotdwar to Delhi Tempo Traveller | 3 hours 50 mins | 204 km |
| Bikaner to Delhi Tempo Traveller | 7 hours 20 mins | 448 km |
| Alwar to Delhi Tempo Traveller | 2 hours 36 mins | 160 km |
| Kashipur Uk to Delhi Tempo Traveller | 3 hours 50 mins | 225 km |
| Chittaurgarh to Delhi Tempo Traveller | 7 hours 57 mins | 570 km |
| Greater Noida to Delhi Tempo Traveller | 39 mins | 40.0 km |
| Manesar to Delhi Tempo Traveller | 1 hour 0 mins | 49.5 km |
| Hisar to Delhi Tempo Traveller | 3 hours 2 mins | 169 km |
| Kullu to Delhi Tempo Traveller | 8 hours 39 mins | 513 km |
| Bhimtal to Delhi Tempo Traveller | 5 hours 20 mins | 293 km |
| Aurangabad to Delhi Tempo Traveller | 17 hours 49 mins | 1,254 km |
| Saharanpur to Delhi Tempo Traveller | 3 hours 24 mins | 190 km |
| Sattal to Delhi Tempo Traveller | 5 hours 7 mins | 284 km |
| Meerut to Delhi Tempo Traveller | 1 hour 35 mins | 70.2 km |
| Shahjahanpur to Delhi Tempo Traveller | 5 hours 36 mins | 336 km |
| Devigarh to Delhi Tempo Traveller | 10 hours 17 mins | 694 km |
| Panipat to Delhi Tempo Traveller | 1 hour 37 mins | 98.4 km |
| Faridabad to Delhi Tempo Traveller | 43 mins | 30.0 km |
| Aligarh to Delhi Tempo Traveller | 2 hours 2 mins | 137 km |
| Sarchu to Delhi Tempo Traveller | 16 hours 43 mins | 776 km |
| Gwalior to Delhi Tempo Traveller | 4 hours 39 mins | 334 km |
| Etawah to Delhi Tempo Traveller | 3 hours 49 mins | 314 km |
| Bhagsu to Delhi Tempo Traveller | 8 hours 32 mins | 497 km |
| Karanprayag to Delhi Tempo Traveller | 7 hours 6 mins | 402 km |
| Fatehpur Sikri to Delhi Tempo Traveller | 3 hours 18 mins | 222 km |
| Bareilly to Delhi Tempo Traveller | 4 hours 14 mins | 256 km |
| Shekhawati to Delhi Tempo Traveller | 4 hours 10 mins | 271 km |
| Bhiwani to Delhi Tempo Traveller | 2 hours 11 mins | 121 km |
| Gulmarg to Delhi Tempo Traveller | 14 hours 22 mins | 890 km |
| Garhmukteshwar to Delhi Tempo Traveller | 1 hour 43 mins | 94.3 km |
| Pushkar to Delhi Tempo Traveller | 6 hours 1 min | 404 km |
| Bundi to Delhi Tempo Traveller | 7 hours 26 mins | 473 km |
| Sawai Madhopur to Delhi Tempo Traveller | 6 hours 1 min | 367 km |
| Bharatpur to Delhi Tempo Traveller | 2 hours 49 mins | 197 km |
| Guptakashi to Delhi Tempo Traveller | 7 hours 45 mins | 414 km |
| Shivkhori to Delhi Tempo Traveller | 10 hours 58 mins | 679 km |
| Mandawa to Delhi Tempo Traveller | 4 hours 27 mins | 260 km |
| Hanumangarh to Delhi Tempo Traveller | 6 hours 0 mins | 345 km |
| Itanagar to Delhi Tempo Traveller | 1 day 9 hours | 2,040 km |
| Naukuchiatal to Delhi Tempo Traveller | 5 hours 20 mins | 294 km |
| Harsil to Delhi Tempo Traveller | 9 hours 21 mins | 470 km |
| East Khasi Hills to Delhi Tempo Traveller | 1 day 7 hours | 1,914 km |
| Fatehgarh Sahib to Delhi Tempo Traveller | 4 hours 8 mins | 268 km |
| | | |