Hire 12 Seater Tempo Traveller in Delhi
Its time to plan your holidays and going for a tour with family or friends all together is always a good option to travel. When the number of traveller's increase it brings the requirement to take a big vehicle for your tour. In such case you can hire 12 seater tempo traveller which will allow you to accommodate maximum number of people. About 12 person can sit in a 12 seater tempo traveller which you can rent from delhi or other nearby locations of Delhi. We have two types of Variants available in 12 Seater Tempo Traveller one is 12 Seater Standard Tempo Traveller whereas the other one is 12 Seater Luxury Tempo Traveller.  The photoes which you are seeing in this post are of 12 Seater Luxury Tempo Traveller whereas if you want to choose a 12 Seater Standard Tempo Traveller you can view the same from here (12 Seater Standard Tempo Traveller). If you think that the number of travellers may increase and you would require much bigger vehicle to travel you can opt for a 15 Seater Tempo Traveller. Here is our 15 Seater Luxury Tempo Traveller which you can choose to book for your tour.
When you have plans to visit to Hill stations and hire 12 seater tempo traveller in delhi you can lead towards locations of Himachal pradesh or Uttarakhand which are popular hill stations in Summers.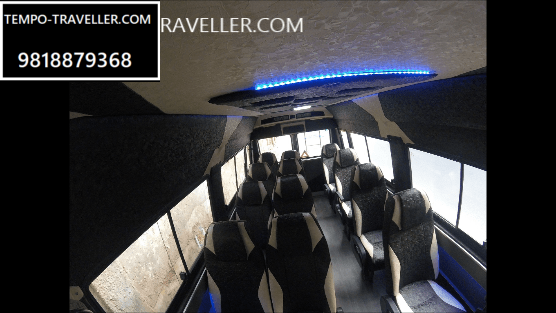 If its winter the most visited destination is Rajasthan as the weather in Rajasthan is pleasant in winters. People also prefer to hire 12 seater tempo traveller for Himachal tour in winters too. You can book a 12 seater tempo traveller in Delhi and the tempo traveller will be with you for the whole tour and will drop you in Delhi on the completion of your tour.
If you have previously hired a tempo traveller from Delhi you must be aware of the comfort which a tempo traveller provides for the tour.
If you have not yet hired a 12 seater tempo traveller let us explain you about the luxury and comfort you will get in a tempo traveller. When you hire 12 seater tempo traveller you get 12 seats in the tempo traveller with 2×1 seating arrangement where 12 person can sit all together. These seats are push back seats which means you can recline the seats by pushing a button below the seat to take rest during your journey. As being a big vehicle this vehicle saves you from the bumps and burps on the road which are usually felt when you are travelling in a small car. On the safety point also the tempo traveller is safe due to the long and solid body which keeps it safe. A tempo traveller is like a small bus which you can take to destinations according to your preferred directions. Music system is fitted with pen drive option to play different songs during your tour for entertainment. Some of our Tempo Travellers have LCD screen for watching videos during the tour. Ample space to keep luggage on the carrier of the vehicle. The photos shown in this 12 seater tempo traveller which you can hire for your tour has luxury interior on the sides of your seats and on the roof of the tempo traveller. Proper covers on seats of tempo traveller are provided so that the customer hiring a tempo traveller gets more comfort while seating.
Planning considered to Hire 12 seater tempo traveller in delhi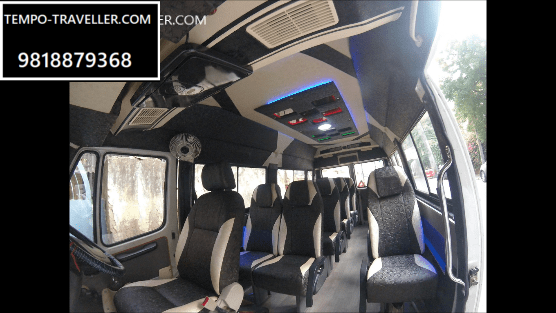 When you want to book a 12 seater tempo traveller in delhi first thing you should decide to which location you need to head towards. You want to visit a hill stations of Himachal or a desert of Rajasthan or want to go for a lake tour of kashmir. The number of days available which you can spend on your holidays is also important. If you have 3 to 5 days only available you should plan for Manali and shimla tour in Himachal Pradesh for Hill tour of Himachal, Nainital and Kasauni or Corbett in Uttarakhand and Jaipur and Pushkar can be covered in Deserts of Rajasthan.
When you have 5-10 Days availabe you can visit Shimla, Manali, Dharamshala and Dalhousie Tour in Himachal, In uttaranchal you can visit Bhimtal, Nainital, Ranikhet, Kasauni and Jim Corbett for your preffered tourist spot also Agra and Jaipur can be added during the tour. for a long tour to Rajasthan you can visit Jaipur, Pushkar, Jodhpur and Jaisalmer tour this desert tour is best to visit in winters. If you are planning to visit kashmir or Leh this also requires a 7 to 10 days tour.
In Kashmir you can visit Srinagar, Pehalgam, Sonmarg and Gulmarg tour. If you are planning for a 1 or 2 days tour you can visit Lansdown by tempo traveller or Agra Jaipur by Temmpo traveller. It all depends upon how many days you have available for your tour there are hundreds of destinations nearby Delhi which one can visit and explore and enjoy the senic beauty of that place. We also design and help our customers to plan their tour package by tempo traveller and help them to decide which when and how to cover all the places you want to visit. You can just drop us a email regarding your tour plans and we will help you in the best possible way for your tour plan. You can call us at +91 9818879368 or email us your requirements at [email protected]