12 Seater Tempo Traveller
We offer buses, Tempo travellers and cars on  rent for people planning their vacations. If you have a plan for a tour by a mini bus or a 12 seater tempo traveller in delhi and want to hire a 12 seater tempo traveller we can accomodate your tour with a 12 seater luxury tempo traveller for your tour. The transportation by a 12 seater tempo traveller for your holiday starting from delhi can be planned in our tempo traveller. There are few diffrent types of tempo traveller which are according to the number of passengers travelling can be suited. Variants we offer are 9 seater, 12 seater and 15 seater tempo travellers.
If the total number of travellers are 12 and you are looking to visit with a tourist vehicle which can fit for 12 people you can choose a vehicle like a 12 seater tempo traveller in gurgaon or delhi, we can provide you our one of the best services for renting a tempo traveller in gurgaon & Delhi.
Hiring a 12 seater tempo traveller is basically for outstation tours for Himachal, Punjab and Srinagar from gurgaon and delhi. Majorly travellers which come from diffrent part of India by train drop at delhi and hire tempo traveller from delhi to Himachal Pradesh. The best time to visit Himachal pradesh is from May to July. The tours which are famous during this time are Shimla manali tour by 12 seater tempo traveller, Only Manali Tour by 12 Seater Tempo traveller and Dharmashala, Dalhousie tour by 12 Seater tempo traveller. You can choose any one which suits you according to your preferences.
One of our service which includes tempo traveller rental is 12 seater tempo traveller rental gurgaon to various nearby destination like visiting agra from gurgaon, visiting manali by tempo traveller from gurgaon, visiting nainital or jim corbett from gurgaon. Our major customers in gurgaon who rent the tempo traveller are from corporates who like to visit on weekends to nearby destinations from delhi or gurgaon.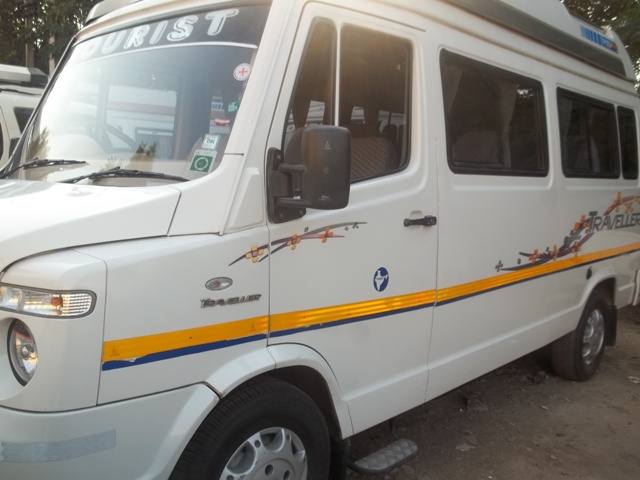 12 Seater AC Tempo Traveller – 12 seater tempo traveller gurgaon which can be rented is best and reliable for short and long tours in Gurgaon and nearby locations like noida and delhi.
It is adviced that you should pre book the vehicle before planning for your tour as the availibility of vehicle can be shortened if called at the last moment. You can know the complete tour package cost for your tour as this vehicle has state tax, toll tax and parking charges also charged while the route you are planning. As this tempo traveller is a commercial vehicle there are state tax which is little bit high and charged accordingly where ever you are visiting according to the same the tax is charged.
12 Seater Tempo Traveller Gurgaon We maintain our tempo travellers in good conditions and have the best interiors in it also which suits the best budget for travellers travelling by tempo traveller in delhi and gurgaon. Our tempo traveller agency which provides various types of 9 seater, 12 seater and 15 seater tempo traveller helps customers book their tempo traveller in Delhi & 12 seater tempo traveller Gurgaon on rental basis. We understand the value of our our customers and understand the requirements of our customers that is why our drivers for tempo travellers are specially trained according to customer's requirements.
Our Major Tempo Traveller tours are for Delhi to Vrindavan Tour packages, Delhi Rajasthan packages, Haridwar & Rishikesh Tour packages, Mathura Agra Tour packages by tempo travellers and Jaipur Ajmer Tour Packages by tempo travellers. Our Tempo Travellers are new and clean. You can book any of our tempo traveller by calling us at 9818879368
Popular Tour by 12 Seater Tempo Traveller
12 Seater Popular Tours to Hill Station
12 Seater Seater Tempo Traveller for Manali – Hire a 12 seater tempo traveller for Manali Tour. Total distance from Delhi to Manali is Aprox 1300 K,M Round Trip and for one way the travel time it takes to reach manali by tempo traveller is about 12 to 13 Hours.
12 Seater Seater Tempo Traveller for Dharamshala – Dharamshala is also a very popular tourist Destination in Himachal pradesh where people visit by a hiring a 12 seater tempo traveller.The total distance from Delhi to Dharamshala is about 1100 K.M which includes siteseeing of Dharamshala by Tempo Traveller. The time it takes to visit Dharamshala is about 9 Hours From Delhi.
12 Seater Popular Tours to Rajasthan
12 Seater Seater Tempo Traveller for Jaisalmer – Jaisalmer being the desert part of India is a most popular tourist attraction which is majorly visited in the month of December to Februry as the weather conditions are good at this place. The total distance to Jaisalmer is 1600 K.M and it takes 14 Hours to cover one way to Jaisalmer.