tempo traveller in delhi
Tempo Traveller in Delhi for your tours
If you are visiting in delhi as a tourist and have plans to take a vehicle which is best suited for aprox 9 to 10 people in a group we would recommencement you to hire a tempo traveller in delhi and the tempo traveller which will suit your requirements will be our 9 seater tempo traveller. which you can hire from delhi and can take it to any part of india or abroad and have planned a tour in which you require a tempo traveller our services can help you find a tempo traveller for rent for your tour.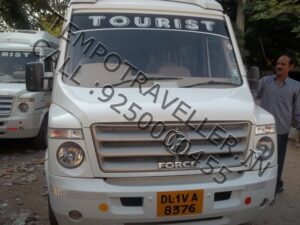 You can let us know what kind of tour you have so that we can advise you which tempo traveller and for how many days you can require the same tempo traveller in delhi towards your destination and what costing will be so that it is easy for you to manage your trip. We are highly recommended by many travellers who have availed our services for rental of tempo traveller in delhi we provide best services with best driver, Best vehicle and best customer support. Our tempo traveller in delhi are majorly used by travellers who want luxury in their travel and the tour towards delhi to manali by tempo traveller or the tour from delhi to nainital by tempo traveller either its a short destination like delhi to agra with a tempo traveller and even you can hire to haridwar or rishikesh which are majorly travellers peak destinations to travel in the summer season most of the travellers hire tempo traveller for chardham yatra which we also provide and it is for aprox 12 days from delhi and 10 days from haridwar. Our services also catter do dham yatra with tempo traveller from delhi and haridwar. So if you want to plan your tour with tempo traveller in delhi you just let us know either by email at [email protected] or you can also call us at 09250000455 we will be happy to assist you regarding your tour.
There are varius types of tempo travellers which we provide on rent in delhi you can know more about these types of tempo traveller like our 9 seater tempo traveller, 12 seater tempo traveller and 15 seater tempo traveller.