Hire a Tempo Traveller from Delhi to Corbett
Few Details About Destination Corbett by tempo traveller
Corbett National Park,The Park is placed in the foothills of the Himalayas, in the midst of lush greenery and uneven mountains with varying heights, ranging from about 1300 feet to nearly 4000 feet hire a Tempo Traveller from Delhi to Corbett. It is believed that the place, mostly lying on the banks of Damanganga River, has prospered an ancient civilization.
The distance from Delhi to Corbett National park is about 250 K.M and it depends from where you are hiring a tempo traveler from us. The place from where you prefer to hire a tempo traveler will be different from the place our garage is located. The total distance will be calculated from our garage and accordingly when the tempo traveller will reach to the place from where you are going to hire the tempo traveller both the distance will be calculated for onward and return. The round trip distance is about 550 K.M which includes some siteseeing when you will be visiting to Corbett national park.
The nearest airport is at New Delhi which is approximately 300 km from the park, If you want to visit corbett via road you  can hire a Tempo Traveller from the Delhi. The visit to corbett national park can be experienced more closely by going through road by a tempo traveller.  The best thing about corbett which attracts the travellers is the aquatic reptiles various types of  crocodiles can be seen here. Jim corbett is really a worth natural park to visit, to see the nature's varieties and beauty.For travelers who are arriving by trains the best option to explore this place with adventure is to explore it by a Tempo Traveller. you can rent 9 seater tempo traveller for your visit to jim corbett if you are in a group of people travelling below 9 or else one can rent a 12 seater tempo traveller too when the group size is of about 12 persons if the group size is even more on can rent a 15 seater tempo traveller from Delhi to Corbett.  The place is a beautiful place where adventures of jungle can be explored by elephant ride and jeep safari.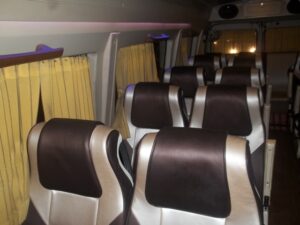 We not only provide tempo traveller from delhi to corbett but also provide hotel reservation and jeep safari booking and adventure activities in corbett which you can contact with our representative and know about the cost for the same it is adviced that you pre book your tempo traveller if you are planning to visit jim corbett national park. The number on which you can contact regarding the booking for tempo traveller is 09818879368 or you can also email us at info[email protected]
There are many Tempo Traveller 9 seater tempo traveller,12 seater tempo traveller,15 seater tempo traveller that can be arranged through the resorts to travel inside the park.he Tempo are generally safe; however the jungle terrain may make for difficult and uncomfortable rides. Some resorts also arrange elephant Tempo and this is another fun way to see the jungle.
Corbett National Park is famous if Tempo Traveller from Delhi to Corbett statistics there are about more than 51 different kinds of shrubs, more than 30 kinds of bamboos and over 110 different species of trees, apart from the greenish grass seen only in meadows.
 Distance to Corbett by Tempo Traveller from various locations in India.Weather Details Of Corbett – Visiting Corbett by Tempo Traveller best suited weather to visit Corbett. Winter (November to February) encompasses a temperature variation of five °C to thirty °C Travelling with tempo traveller booking in Corbett. Winter mornings  may be foggy however pleasant afternoon makes it a decent time for enjoying expedition.
Summer (March to May) bit 40°C and also the average temperature is regarding 30°C. Tourists will move round the Park throughout this season and revel in life Travelling with tempo traveller booking in Corbett.
Monsoon (June to September) provide serious downfall; there is light-weight rainfall intermittently whole through the year Travelling with tempo traveller on rent in Corbett. The monsoon is sweet to relish the natural beauty however many zones of the park area unit closed throughout these months.