Rent 12 seater tempo Traveller Gurgaon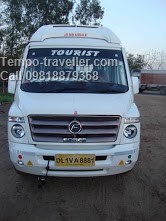 We offer buses and car rental for people planning their vacations for a tour by a mini bus or a tempo traveller. If you are  looking to visit with a tourist vehicle like a 12 seater tempo traveller in gurgaon we can provide you our one of the best services for renting a tempo traveller in gurgaon. Hiring a tempo traveller is  basically for outstation tours from gurgaon. One of our service which includes tempo traveller rental is 12 seater tempo traveller rental gurgaon to various nearby destination like visiting agra from gurgaon, visiting manali by tempo traveller from gurgaon, visiting nainital or jim corbett from gurgaon. Our major customers in gurgaon who rent the tempo traveller are from corporates who like to visit on weekends to nearby destinations from delhi or gurgaon.
 12 Seater AC Tempo Traveller  – 12 seater tempo traveller gurgaon which can be rented  is best and reliable for short and long tours in Gurgaon and nearby locations like noida and delhi, while if you're planning a more distant travel to to different countries or cities like Morocco, you can find services like Morocco Tours online to take family vacations. It is adviced that you should pre book the vehicle before planning for your tour as the availability of vehicle can be shortened if called at the last moment. You can know the complete tour package cost for your tour as this vehicle has state tax, toll tax and parking charges also charged while the route you are planning. As this tempo traveller is a commercial vehicle there are state tax which is little bit high and charged accordingly where ever you are visiting according to the same the tax is charged.
---
12 Seater Tempo Traveller Gurgaon. We maintain our tempo travellers in good conditions and have the best interiors in it also which suits the best budget for travellers travelling by tempo traveller in delhi and gurgaon. Our tempo traveller agency which provides various types of 9 seater, 12 seater and 15 seater tempo traveller helps customers book their tempo traveller in Delhi & 12 seater tempo traveller Gurgaon on rental basis. We understand the value of our our customers and understand the requirements of our customers that is why our drivers for tempo travellers are specially trained according to customer's requirements.
Our Major Tempo Traveller tours are for Delhi to Vrindavan Tour packages, Delhi Rajasthan packages, Haridwar & Rishikesh Tour packages, Mathura Agra Tour packages by tempo travellers and Jaipur Ajmer Tour Packages by tempo travellers. Our Tempo Travellers are new and clean.
If you need Tempo Traveller from Delhi or gurgaon tour any part of India we can help you and also offer English speaking driver for tourist help. Any person can book your trip with tempo traveller by online booking form. We have specially designed Luxury tempo traveller has many facilities like:
Facilities included in 12 Seater Tempo Traveller Gurgaon
12 Seater Tempo Traveller Gurgaon with Color LCD this Tempo Traveller also contains sofa  in Tempo Traveller.
Vehicle is fitted with Stereo System 12 seater tempo traveller  also contains the First Aid Box.
There is a carried to put luggage in this vehiche and fitted with  On Top Carrier the vehicle contains Clean & New Seat Covers and well trained drivers while hiring a vehicle for your tour.
The travellers are widely available on rent with us you can view the photoes of these tempo travellers from the gallery if you want us to organize your tour you can contact us at 09818879368 and speak to our travel consultant who can advice you complete tour plan with itenary also.
The charges can be also discussed and route which is best suited for your tour can be also discussed with our tour planner.
Other Optional services you can take if you have specific requirements while hiring a tempo traveller in gurgaon
English Speaking Driver
Hotel reservation to all destinations in the tour
Activities and site seeing according to destination