Hire Tempo Traveller From Delhi to Jammu
Few Details About Destination of Jammu
Jammu is located at the foot hills of great Himalayas and is the winter capital of the state Jammu and Kashmir you can go for a visit to jammu by hiring a tempo traveller from our company named Journeydeal Travels. Call us at 9818879368 to rent a tempo traveller from Delhi to jammu. Distance from delhi to Jammu is aprox 550 K.M and it takes aprox 9 hour journey by tempo traveller. The vehicle tempo traveller will be taking you through the NH44 Highway from where you can reach jammu in a specific time. In route from delhi to Jammu Tempo Traveller will take you from the Express Highway from Panipat to Chandigarh The roads which is known as National Highway 5 you will feel comfort and without bump roads are best suited for travel. There are many Dhabas in this route where you can have your lunch or dinner famous for the Parathas at Murthal which you can see in Row many dhabas when you cross murthal.
About the destination jammu It is believed that Raja Jambu Lochan founded this beautiful city. The airport at Jammu are widely open for journey by flights many metros of India  You can plan your journey according the number of passengers in total and rent Tempo Traveller In Delhi from the various seating capacity of 9 seater tempo traveller,12 seater tempo traveller and 15 seater tempo traveller services if the number of travellers increases you can also hire mini bus from us. 27 seater mini bus can be also hired for the tour from. Jammu was created in the 14th BC by the emperor Raja Jambu Lochan. He was convinced Jammu to be a place of peace and tranquility after witnessing a lion and goat drinking water from the same place at the same time and then going their own way. Jammu is a scenic city in the State of Jammu and Kashmir and it is well connected by air,rail and Tempo Traveller in Delhi to other parts of the country and state. Email us your booking query at [email protected]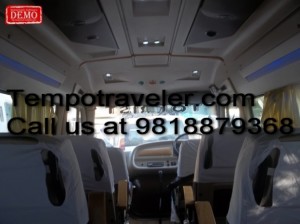 Tourists can also opt for sightseeing tours by a tempo traveller to jammu from delhi or within the city which covers the main places of interest in jammu and kashmir. The number to reach us is 9818879368. The tours are arranged by us by the tempo travellers pre booked according to number of days to be stayed in jammu. majorly travellers prefer hiring a tempo traveller from delhi to jammu or chandigarh to jammu as per the requirements and their train bookings when travelling from south india to north india.
The state jammu and kashmir is preffered tourist destination in india for travellers visiting jammu in the summers starting from may-august because of its scenic beauty so when it comes to travel with the whole family and choose best and comfortable tour instead of taking two small taxi a family prefer to take a big tempo traveller for siteseeing in jammu. Best for long tours our many other destination tours by tempo traveller can be searched from our website https://tempo-traveller.com. Also one can hire a tempo traveller from Delhi to jammu according to their travel plans and tickets booked. The best part about travelling from delhi to jammu by tempo traveller is that the journey is so exciting and you will not feel tired at all if you take one or two stops in between like you can take a stop in between at amritsar or neary location for siteseeing in punjab which comes in between the way towards jammu
Jammu is a scenic city in the State of Jammu and Kashmir and it is well connected by air and rail to other parts of the country.For travel within the city and surrounding areas travelers can 9 seater tempo traveller,12 seater tempo traveller,15 seater tempo traveller,The best way to get around the city is too Tempo Traveller In Delhi of 9 seater tempo traveller. They are available easily and are cheap. They charge between Rs 200 and 400 for travel within the city. There are 12 seater tempo traveller,15 seater tempo traveller stands all over the city. These Tempo Traveller  ply to Katra and Srinagar Some of them can be hired to travel within the city as well.
Distance to Jammu by Tempo Traveller from various locations in India
Weather Details Of Jammu – Visiting Jammu by Tempo Traveller best suited weather to visit Jammu
Summer are hot and temperatures will be a soaring level to 45°C, In Travelling tempo traveller from delhi to Jammu Amarnath. smart item for rubber-necking and taking the holy pilgrim's journey.
Winter In Travelling tempo traveller at Jammu (November to February) are cold with temperatures dipping to freeze temperatures and precipitation happens.
Monsoon are ascertained throughout Gregorian calendar month to August and therefore the space receives smart quantity of rain In Travelling tempo traveller on rent in Jammu.
Autumn In Travelling tempo traveller to Jammu  (September to November) is flowering season and Jammu is incredibly engaging throughout that amount.
<iframe width="620″ height="650″ iframe src="https://maps.google.com/maps?q=delhi+to+Jammu&amp;t=m&amp;z=8&amp;output=embed&amp;iwloc=near" frameborder="0″ marginwidth="0″ marginheight="0″ scrolling="no"></iframe>