12 Seater Tempo Traveller – Rent in Delhi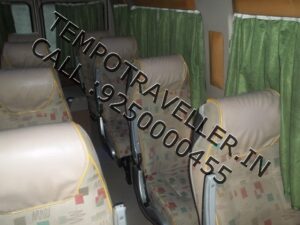 12 Seater tempo traveller is a big vehicle which can accomodate upto 12 members in it. Twelve seater tempo traveller can be hired for tour package.  If you need to rent a 12 seater tempo traveller you need to let us know about your tour plans. As adviced and majorly the tours are made from delhi to other nearby destinations.
We also provide our this 12 seater tempo traveller on rent from delhi, noida and gurgaon. If you need to get some help in creating a route plan for your tour you can contact our travel expert who will help you in making your tour plans with the best possible route according to your preffered destination.
About 12 Seater Tempo Traveller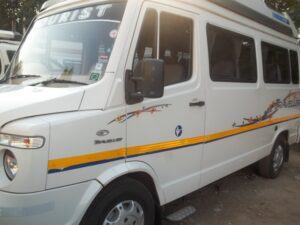 A 12 seater tempo traveller is good to accommodate 12 people in this vehicle but if people are below 12 travelling in tempo traveller  this vehicle is also best in those conditions. Reason is you get much more space. The tempo travellers are more preferred than Innova car or any other vehicle which comes in this range. The seating and space is good in this kind of vehicle and the vehicle has also got lots of leg space. There are few kinds of tempo travellers which differentiate the quality of the vehicle which you want to hire from delh,i noida or gurgaon.
There are total 14 seats in this tempo traveller in which two seats are for driver and helper and after that 12 seats are left for passengers to accommodate. The vehicle has other major facilities also available to entertain in the route like it has music system so that you can listen your preffered songs in route. The windows of tempo traveller can be opened and can experience the atmosphere can have a breath from the nature. These tempo traveller are AC tempo travellers and you feel the airconditioner in the entire vehicle as there is blower at the last seat to provide cooling for passengers sitting in the last row also.
Sometimes the helper seat in the 12 seater tempo traveller is removed and except those seats in total there are 12 more seats which can accommodate 12 people. This vehicle tempo traveller has push back seats,  sofa cum bed, LCD screen, Music System, Exclusive Interior in it. Learn more from New Zealand Van Lines LTD on relocation services.
The pictures shown above are same for 15 Seater tempo traveller in which there is a sofa cum bed at the last similarly the 12  seater tempo traveller is there in which the 12 seats are there but sofa cum bed is not there in a 12 seater tempo traveller which makes it different from a 15 seater tempo traveller. This beautiful tweleve seater tempo traveller vehicle can be hired from us for your tour package either by emailing to us at [email protected] or you can also call us at 09212222677 or 09250000455. When you wish to take this 12 seater tempo traveller for your tour you should make sure that the total number of person who are travelling should be accommodate in this 12 seater as number of person should not increase from twelve in this vehicle. Make a Reservation for your Tempo Traveller by clicking here.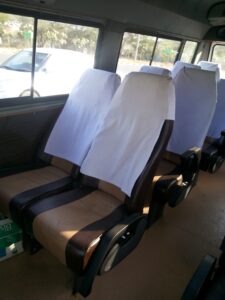 If you are visiting to delhi from any other part of India or world and want to plan a tour from New Delhi or nearby location from delhi. The picture of a 12 seater tempo traveller can be viewd on the side for an idea to know how a 12 seater tempo traveller looks. You have to tell us the pickup point from where we can provide you our 12 seater tempo traveller for hire. In such case it is easy for us to locate you and eaisly we can let our tempo traveller to be placed there in advance some hour prior to your travelling time.We are located in new delhi and this vehicle can be hired in delhi from us. We have branches in other locations also for the specific tour plan you can contact us to know if the vehicle is available to your location.
| | | |
| --- | --- | --- |
| Car Name | |  FORCE TEMPO TRAVELLER 12 SEATER |
| | | |
| Seating Capacity | |  12 passengers + 1 Driver + 1 Helper |
| | | |
When you are looking for a 12 seater tempo traveller to hire in delhi for your tours you should understand the seating arrangement it has 9 push back seat very well places 2X1 seating arrangement  and last seat  is very well maintained which is convert in Sofa. 12 seater tempo traveller has Push back seat whhich is very comfortable for travellers. This 12 seater tempo traveler is very much recommended by us for tours it  has much free space for luggage.
Our travel agency has all kind of tempo traveller in delhi and luxury car on Rent. You can you hire any car and tempo traveler according your need and our all vehicle is in well condition.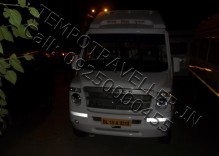 Tempo Traveller on rent for Bharatpur by tempo traveller located in Rajasthan:
Breif description about tempo traveller in bharatpur by tempo traveller
Local site seeing in bharatpur by tempo traveller
Bharatpur is an attractive tourist destination. Any type of bird you can se in bharatpur sanctuary-the Keoladeo Ghana National Park – finest in Asia