9 seater tempo traveller
We have Two Kinds of this 9 seater tempo traveller on rent basis which we provide in delhi.
One is 1×1 Seating 9 Seater tempo traveller on rent which has Seating arrangement with three rows 1X1 arranged and at last there is a sofa sufficient for 3 to 4 people to accommodate. The seats are maharaja seats and  very comfortable for travellers to adjust in this 9 seater tempo traveller. Either than 9 Seater if you want to hire a 12 seater tempo traveller or 15 seater tempo traveller in delhi or gurgaon you can contact us to hire the same from us.
The Second type of 9 Seater tempo traveller is 2X1 seating this 2X1 seating 9 Seater tempo traveller has one side two seats and other side 1 seat and has in total four rows this vehicle does not consist of a sofa at last but only four rows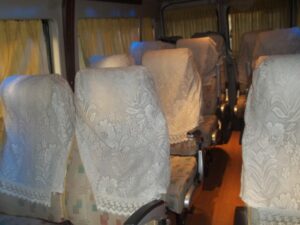 This 9 Seater tempo traveller you can pre book from us if you are travelling from Delhi and require a nine person accommodation  or also can be hired in gurgaon when total 9 people are travelling together to fit in the 9 Seater tempo traveller in gurgaon. The vehicle has Music System. Full Space at the back to fit upto 20 Big Suitcase inside the vehicle. With air condition and you can demand a Icebox when you book this 9 seater tempo traveller in advance from us.
There is ample leg space in this 9 seater tempo traveller which can be hired in delhi, florescent interior which glow in night and when a traveller hire this 9 seater tempo traveller and travels in it the comfort and luxury is admired the distance which traveller covers he doesn't feel as if he has gone through a long journey but feels refreshing and delighted when travelling with our 9 seater tempo traveller.
These 9 seater are in Delhi and Gurgaon  and when we organizea tour for our customers who want to rent this 9 seater tempo traveller from us we keep in mind that we provide best services to our customers regarding their tour. We also help them in choosing hotels for many destination for which they want to rent a tempo traveller in delhi like if a traveller wants to go to Manali in himachal from delhi , or want a short weekend tour from gurgaon to corbett in uttarakhand, Delhi to amritsar by tempo traveller, delhi to jammu by 9 seater tempo traveller  and there are so many locations for which travellers take tempo traveller from us on rent so we advise to take him a combo package from us in which we provide hotels and tempo traveller together so that when they book both the services from us they get best price as we have tied up with major hotels in north india to provide combo package. Do consult with our representative regarding the same at 09266615151 or you can also email at [email protected] regarding rental of your query. We will provide the options via email within 24 hours we recieve your query except on holidays it takes some time to revert for bookings for a 9 seater tempo traveller.
In gurgaon many companies also hire tempo traveller from us on monthly basis. So if you have any query to hire a tempo traveller on monthly basis let us know about the same too.