15 Seater Tempo Traveller in Delhi provided for rent for Outstation Tours
15 Seater Tempo Traveller which we provide for tours in delhi has a capacity to accomodate 15 passengers can be seated in this vehicle. There are 12 seats in 2X1 ratio and at the end there is a sofa cum bed in which 3 person can sit other than that there are 02 additional seats for chauffeur and helper. You can hire a 15 seater tempo traveller from http://tempo-traveller.com which is our official website to hire a 15 seater tempo traveller in delhi.
This 15 seater tempo traveller prvided for tours in delhi is one of the most economical option for group travelers for outstation or local use of transport in delhi or any other tourist destination. 15 Seater Tempo Traveller for hire in Delhi is available in delhi for tours to all parts of the country, especially the major cities which travellers opt for their tour from Delhi are Himachal the hill station tour fro delhi by tempo traveller.
Rajasthan the desert area of India for tour by tempo traveller where there are more cities to explore like Jaipur tour from delhi by tempo traveller, and Jaisalmer the thar desert tour by tempo traveller also there are other beautiful places in rajasthan which you can visit by 15 seater tempo traveller like Bikaner tour by a 15 seater tempo traveller,  most people also visit Salasar Balaji which is a popular Hanuman Ji temple in Rajasthan other tourist destination close from delhi are popular hill station of Uttranchal, Srinagar and many more.
About Tempo Traveller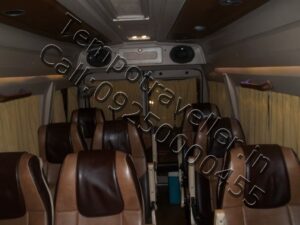 The manufacturing of the vehicle  Tempo Traveller is done by Force Motors, after which interiors and exteriors are rebuilt by us and specific modification is done in the vehicle according to clients requirement for rent for tour purpose we modify the vehicle so that it looks good from inside. A comfortable journey customers can do while they are travelling by our tempo traveller and to enhance the luxury of the vehicle, and make our clients feel comfortable. To make the vehicle more attractive an additional feature of LCD TV is offered.
Types of 15 Seater Tempo Traveller for Rent
We have various types of 15 seater tempo travellers in delhi which we provide on rental basis for tour packages to diffrent locations from delhi. A 15 seater tempo traveller in delhi is a comfortable vehicle to accomodate 15 people together in it it has push back seats to help make the journey comfortable.
When you are hiring a 15 seater tempo traveller from delhi always try to book in advance from us either by calling us at 09266617171, 9250000455 or by emailing us at [email protected] our 15 seater tempo traveller Delhi has best interiors in it which can be visible in the photographs of 15 seater tempo traveller delhi services. We commit that the vehicle which we will provide you for your tour in delhi will be highly enjoyable as our vehicles are well maintained and with good services
We provide  car rental facilities for both individual and group travelers travelling from delhi by a 15 seater tempo traveller. Our 15 seater tempo traveller Vehicle has below facilities / amenities
15 fully reclining seats & a sofa – The seats of a 15 seater tempo traveller can be adjusted while you have rented this vehicle for your tour you can adjust the seats to take more rest by pushing the seats back.
Relaxed semi back high seats- The seats size in this 15 seater tempo traveller are high to give the comfort.
Individual seat belts (as per availability) – Few of the vehicle have seat belts fitted in our tempo traveller but we do not gurantee about the same that you will get those vehicle or not.
Spacious and comfortable seats – We know it will be a long journey and you will need to have seated on the same seats for hours so we have made our seats very specious so that you can feel the comfort in long journeys.
Abundant leg space – The Leg space is the space betweeen two seats where you can spread ur legs wide so that you do not shurnk in between two seats. There is ample space for even a 7 feet man to sit nicely in the tempo traveller.
Both Ac and Non Ac available
Digital Lcds (as per availability)
Stereo systems
Icebox
24*7 First aid box
15 seater luxury Tempo traveller hire form delhi