12 seater tempo traveller on rent
When its time to take your family members to a memorable holiday and you need to book a best priced vehicle with beautiful interiors, you can opt for our 2 Seater  Tempo Traveller available for outstation tour from Delhi. Our 12 Seater Tempo Traveller is sufficient to accommodate for a group of 12 persons or less.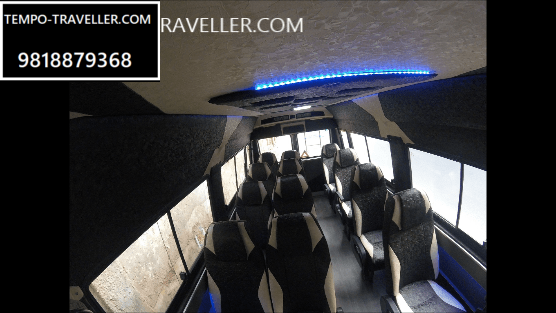 12 Seater Tempo Traveller is a Luxury Vehicle which is best vehicle for small groups below 12 to travel together. While you hire this vehicle from delhi to your desired hill station destination for Himachal or Uttaranchal you should always keep in mind the charges calculated to book a tempo traveller. There are three charges which are to be paid extra than the per K.M charge while hiring a 12 seater tempo traveller. These three charges are State Tax, Toll Tax and driver charges. Some transporter does not specify these charges and at the last moment this becomes a big issue for misunderstanding the charges of hiring a tempo traveller. We specify all the total charges through email which will be included according to your tour plans and all the state tax and toll tax and all inclusive price is mentioned by us. You can get a quote from our support team which will provide you the complete breakup of charges what will be included in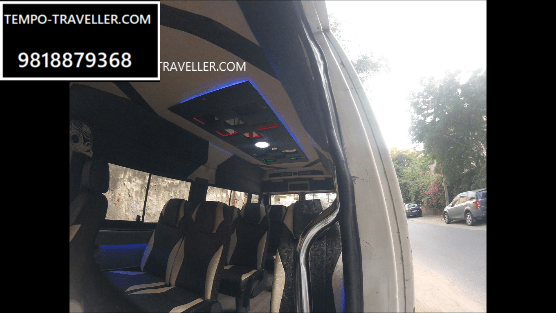 this tempo traveller.
Our 12 Seater Tempo Traveller is a AC vehicle which has music system and LCD fixed in it. The Seats are in 2×1 ratio. Means Two seats are on one side and 1 Seat on other side and in between there is passage for travelling. The maximum speed it travels on road is about 80-100 K.M per Hour. But as per the Traffic rules the maximum speed at which tempo traveller can run is 60-70 K.M per hour. So if you are planning for a tour you can  call us for 12 seater tempo traveller hire in Delhi.
When you are travelling for one state to another i.e from Delhi to Himachal or Delhi to Rajasthan or a small Agra tour by tempo traveller from Delhi. In such case you have to pay the state tax according the states which will be in your route for example if you are travelling to Manali from Delhi in that case you have to pay the state tax of Haryana, Punjab and Himachal. Many people get confused about the state tax and toll tax which are two different things and both are to be paid during the tour. The state tax is payable for according to the number of days you are travelling or will be passing from one state. The third important thing which is to be included is the Driver Daily allowance which is 300 Rs. Per day. So these charges are extra than the Per K.M charge for a 12 Seater Tempo traveller on rent. We clearly specify these charges to our customers in advance who want to hire a tempo traveller in Delhi so that there is no miss understanding later.
We have 12 seater tempo traveller which we provide on rent from Delhi for tour package and we provide 12 seater tempo traveller for hire on rental basis. You can rent 12 seater tempo traveller from us by calling 09818879368. We also provide car on rent for airport pickup, Hotel Drop and other transport services in Delhi. Other tempo travellers which we provide on rent are 9 seater tempo traveller and 15 seater tempo traveller  in Delhi.
We provide tempo traveller rental services for Rajasthan tour packages by tempotraveler, Shimla Kullu Manali tour, Delhi Agra Mathura Vrindavan tour by AC Te
Car Name :    Tempo Traveller 12 Seater
Company :    Force Motors
Seating Capacity :    12 passengers + 1 Driver
Horse Power :    NA
Tariff to rent a Tempo Travellers with driver for inside Delhi, India: (8 Hours and 80KMS)
Our Travel Agency has the different type tempo traveller in our Company we provide tempo travellers like 9 seater tempo traveller,11 seater tempo, 16 seater luxury tempo traveller on rent

More Tempo Traveller option to hire in delhi
12 Seater Luxury Tempo Traveller