9 Seater Tempo Traveller on Rent In Delhi
While Hiring a Tempo Traveller in delhi for your tours. We have our best vehicle which is 9 seater tempo traveller this is the tourist vehicle which we recommend to our customers. We offer 9 seater vehicle in Delhi and have all other types of tempo travellers too which you can hire from us.
Read about why you should hire a 9 seater tempo traveller than other different types of tempo traveller and what you should know before hiring a tempo traveller
Deluxe 9 Seater Tempo Traveller for

Outstation

tours from Delhi
This is a 9 seater vehicle also known as a 9 seater tempo traveller the name 9 seater tempo traveller arrived for this vehicle as it is designed in such a way that two small families of a group of 9 people can sit comfortably in this 9 seater deluxe tempo traveller. The specially of this 9 seater vehicle is that this vehicle is modified from a raw 12 seater vehicle.
A 12 seater tempo traveller to 9 seating by changing the seats and other interior inside this vehicle. The seats are changed from what it comes originally from the manufacture and then the big maharaja seats or other seats and placed with a leg space increased in the vehicle so that the travellers hiring this 9 seater tempo traveller should get good leg space and can rest properly.
Want to hire this 9 Seater Tempo Traveller?
If you are looking to hire 9 seater tempo traveller. You can choose our Luxury 9 Seater Tempo Travellers which are recommended by hundreds of travellers becuse of our beautiful luxury vehicles which we offer on rent in delhi.
The vehicles are modified with excellent interiors and are luxury in quality the customers who travel from our tempo travellers feel the luxury of tempo travellers tour with equipped high definition music system, large seats, sofa cum bed and Screen.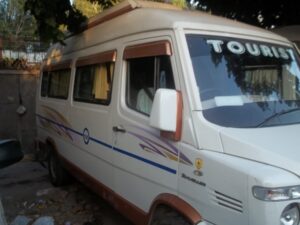 When you book a tempo traveller from us for your tour the vehicle is booked in advance for our customers for the dates customer need. Our office is in Delhi so we offer tempo travellers on rent from delhi. whether you require a 9 seater tempo traveller, 12 seater tempo traveller or a 15 seater tempo traveller we are always there to offer you best vehicles for your tour. It is advised that you should book your tempo traveller in advance before it's too late for you to get a good vehicle. You can book your tempo traveller by calling us at +919818879368, +919266617171 or can also email us at info@selldelhi.com.
Hire a 9 seater tempo traveller which is specially designed for a luxury tour when you are travelling in a 9 seater tempo traveller the best part about this vehicle is that it gives full comfort to the travellers. Where you get more leg space in this vehicle the vehicle turned compact so that the customer who are sitting in the vehicle get complete A/c cooling as the sitting area of this vehicle is made with more room for Air conditioner.
Find 9 Seater Tempo Traveller Luxury Vehicle Images Below.
Available Tempo Travellers